I created this pattern a few months ago as a way to tag different houses around Cleveland.
I like making them with crazy eyelash yarn that I'd normally never ever use. It's a great way to use small bits of yarn, or the inevitable ball of fun fur that a non-knitter gave you for christmas.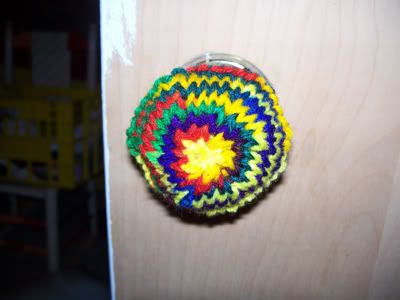 a cozy my friend Rosa made.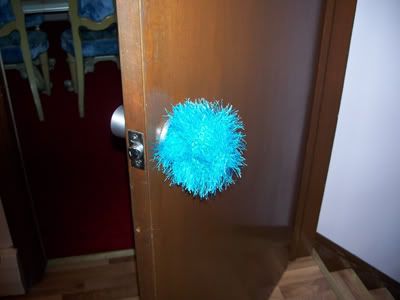 a cozy of my own.
On size 8 dpn's, cast on 26 stitches and work in a 1x1 rib for about an inch or an inch and a half. this will be the "shaft" of the knob.
switch to size 6 dpn's, and work the next row in stockinette, increasing until there are ten stitches per needle. You should now have 30 stitches.
Knit 4, tbl around. You should now have 36 stiches total.
Knit
Knit 5, tbl around. You should have 42 stitches.
purl one row.
knit 5, k2tog around
knit
knit 4, k2tog around
knit
knit 3, k2tog around
knit 2, k2tog around
knit 1, k2tog around
thread all stitches onto the yarn, and pull tight to fasten off.
GO TAG!
I tagged a house near mine so i could observe the reactions. They people kept it on for about 2 weeks, until I switched the cozy to a crochet one in the middle of the night. That one was gone within 2 days. Further proof that knitting is far superior to crochet.
although crocheting rocks as well.