Hey Punk Rock Knitters, I'm your new Administrator! Our dear Lana has stepped down, and I think we should give her a big round of applause for Creating this group, and doing a wonderful job! Yeah Lana! Now, a little about myself: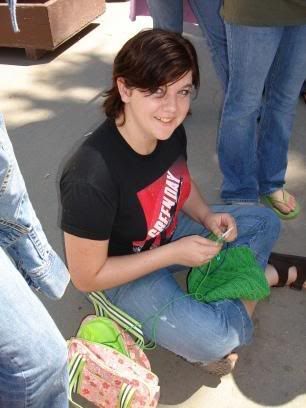 Well, I've been a member since the beginning, I haven't posted in a while though. My name is
Kaity
, I'm 19, I live in Southern California, and I've been knitting for... 4 years? Yes, 4 years. I've been on the TV Show,
Knitty
Gritty. I also have a little Online shop,
Kaity's

Handmade
. I'm punk (duh), my favorite band is The Clash. Besides Knitting, I also play guitar, and I used to play Bass, but I decided to focus more on Guitar and gave up Bass.
Anything Else you wanna know about me, let me know.

Here's how you can Contact Me:
Now, I won't be changing much around here. It will be the same
ol
' Punk Rock Knitter's Blog. I changed the Colors and a little bit of the sidebar, but that's it.
And, in Honor of my Becoming the new Admin, I'm having a
PRK
Contest! I have this skein of Sock Yarn (Lana
Grossa
Meilenweit
Multiringel
):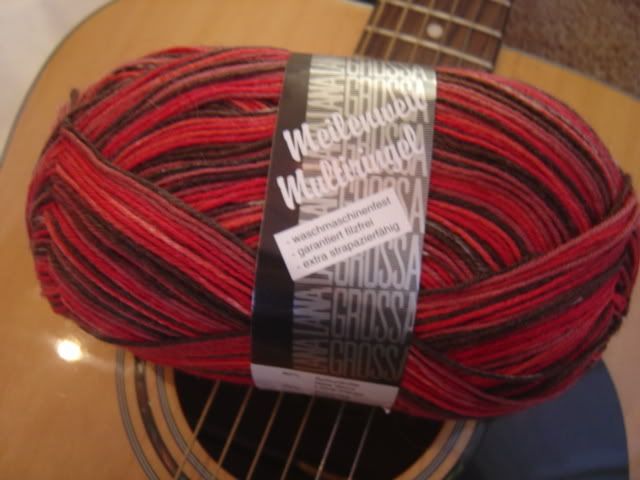 Quite Punk, right? I mean, you can't get more punk than Red and Black. All you have to do to enter to win is Leave a comment, say Hi, introduce yourself, let me know how long you've been knitting, whatever. Everyone that Comments will have their name put into a random drawing and I'll pull a winner on Friday Morning (Only members of Punk Rock Knitters can Enter.) Simple?
Well Guys, I hope to have a great time as your new Administrator. Rock on (and Knit on)!