When I saw
this hat
, I gasped. I HAD TO MAKE IT!!!!
I ran out THAT day to buy the noro, which and since become my new favorite yarn. At first I was skeptical, because whilst casting on, the yarn fell apart. I had to start casting on 96 stitches AGAIN!!! After that, I decided I loved it again, even after I found this weird, black chunk of who knows what tangled up with the yarn.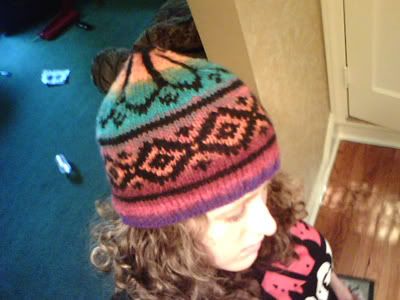 The pattern was pretty straightforward and easy to do once I got into the rhythm. My camera is being fixed, so all i have to go by is the cell phone picture. The top is kind of pointy, but I'm thinking about adding a pom pom to mask it.
I went out and bought a new ball today to design my own. I LOVE THIS YARN!