I went back to my hometown to see my best friend this weekend and she has seen some of my knitting. She loves the lace up gloves I made her that I found on
Spiral's
blog and the hats I made for her kids. So she started asking me how to knit. I was very excited that she asked and I showed her how. Here's a pic of her first attempt to do a slipknot.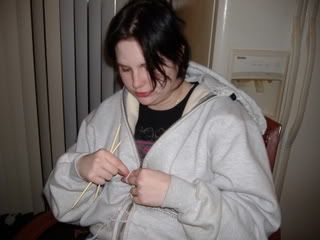 She got upset with me because she's not wearing makeup in this picture. Also, I converted a crocheter. She looks very excited in this picture.
Here's a picture of the latest hat that I did for the excited friend (which she says that she finds knitting soothing). I don't usually like Yarn Bee brand yarn, but this one is cool looking. The yarn is called Mosaic and the color is called blue lagoon. You can't see the shiny, metallic threading spun into it, but it's there and if anyone gets a chance to look at it, they should. Photobucket's being a pain, therefore the picture's not doing the hat any justice.